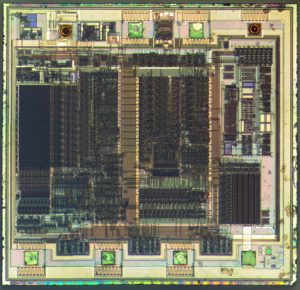 We can crack mcu Altera EPM7064LC44-15, please view below chip features for your reference:
High-performance, EEPROM-based programmable logic devices (PLDs) based on second-generation MAX® architecture
5.0-V in-system programmability (ISP) through the built-in IEEE Std. 1149.1 Joint Test Action Group (JTAG) interface available in MAX 7000S devices
– ISP circuitry compatible with IEEE Std. 1532 Includes 5.0-V MAX 7000 devices and 5.0-V ISP-based MAX 7000S devices
Built-in JTAG boundary-scan test (BST) circuitry in MAX 7000S devices with 128 or more macrocells
Complete EPLD family with logic densities ranging from 600 to 5,000 usable gates (see Tables 1 and 2) 5-ns pin-to-pin logic delays with up to 175.4-MHz counter frequencies (including interconnect) PCI-compliant devices available.
Open-drain output option in MAX 7000S devices
Programmable macrocell flipflops with individual clear, preset, clock, and clock enable controls
Programmable power-saving mode for a reduction of over 50% in each macrocell
Configurable expander product-term distribution, allowing up to 32 product terms per macrocell 44 to 208 pins available in plastic J-lead chip carrier (PLCC), ceramic pin-grid array (PGA), plastic quad flat pack (PQFP), power quad flat pack (RQFP), and 1.0-mm thin quad flat pack (TQFP) packages
Programmable security bit for protection of proprietary designs 3.3-V or 5.0-V operation
– MultiVoltTM I/O interface operation, allowing devices to interface with 3.3-V or 5.0-V devices (MultiVolt I/O operation is
not available in 44-pin packages)
– Pin compatible with low-voltage MAX 7000A and MAX 7000B devices
Enhanced features available in MAX 7000E and MAX 7000S devices
– Six pin- or logic-driven output enable signals
– Two global clock signals with optional inversion
– Enhanced interconnect resources for improved routability
– Fast input setup times provided by a dedicated path from I/O pin to macrocell registers
– Programmable output slew-rate control
Software design support and automatic place-and-route provided by
Altera's development system for Windows-based PCs and Sun
SPARCstation, and HP 9000 Series 700/800 workstations
Additional design entry and simulation support provided by EDIF
2 0 0 and 3 0 0 netlist files, library of parameterized modules (LPM),
Verilog HDL, VHDL, and other interfaces to popular EDA tools from manufacturers such as Cadence, Exemplar Logic, Mentor Graphics,
Programming support
– Altera's Master Programming Unit (MPU) and programming hardware from third-party manufacturers program all
MAX 7000 devices
– The BitBlasterTM serial download cable, ByteBlasterMVTM parallel port download cable, and MasterBlasterTM
serial/universal serial bus (USB) download cable program MAX 7000S devices.
Tags:
kırmak mikrodenetleyici binary
,
kırmak mikrodenetleyici code
,
kırmak mikrodenetleyici data
,
kırmak mikrodenetleyici eeprom
,
kırmak mikrodenetleyici file
,
kırmak mikrodenetleyici firmware
,
kırmak mikrodenetleyici heximal
,
kırmak mikrodenetleyici memory
,
kırmak mikrodenetleyici program
,
reverse pld ic binary code
,
reverse pld ic embed firmware
,
reverse pld ic encrypt program
,
reverse pld ic flash content
,
reverse pld ic heximal file
,
reverse pld ic protect eeprom
,
reverse pld ic software data